Preface (3)
6|7|8|9|10|11-12|13|14|15|16|17|18|19|20|21|22|23|24|25|26|28|30|31|32|33
34|35|36|39|42|44|47|49|51|52|53|54|55|56|57|59|62| 63|64-68|70|73|75
---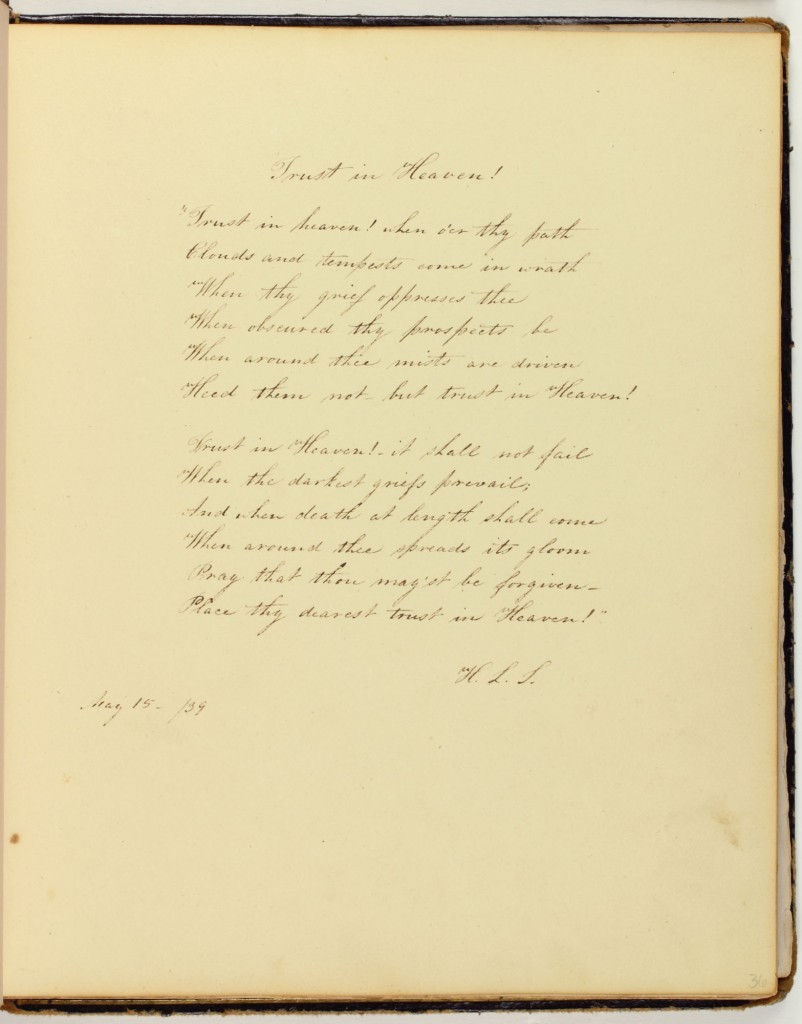 Trust in Heaven!
"Trust in Heaven! When o'er thy path
Clouds and tempests come in wrath
When thy grief oppresses thee
When obscured thy prospects be
When around thee mists are driven
Heed them not—but trust in Heaven!
Trust in Heaven!—it shall not fail
When the darkest griefs prevail;
And when death at length shall come
When around thee spreads its gloom
Pray that thou may'st be forgiven—
Place thy dearest trust in Heaven!"
H.L.S.Aug 15, /39
---
This contribution "Trust in Heaven!" by Hannah Lee Stickney is a religious poem that encourages readers to have faith in the face of the "darkest griefs." One interpretation suggests the "grief" is slavery. Slavery "oppresses" and the "prospects" of freedom are "obscured."
---
Page 36: Selected from the first and last verses of a hymn, which appeared in The Knickerbocker also known as the New York Monthly Magazine 9 (New York: Clark and Edson, 1837), 81.