Preface (3)
6|7|8|9|10|11-12|13|14|15|16|17|18|19|20|21|22|23|24|25|26|28|30|31|32|33
34|35|36|39|42|44|47|49|51|52|53|54|55|56|57|59|62| 63|64-68|70|73|75
---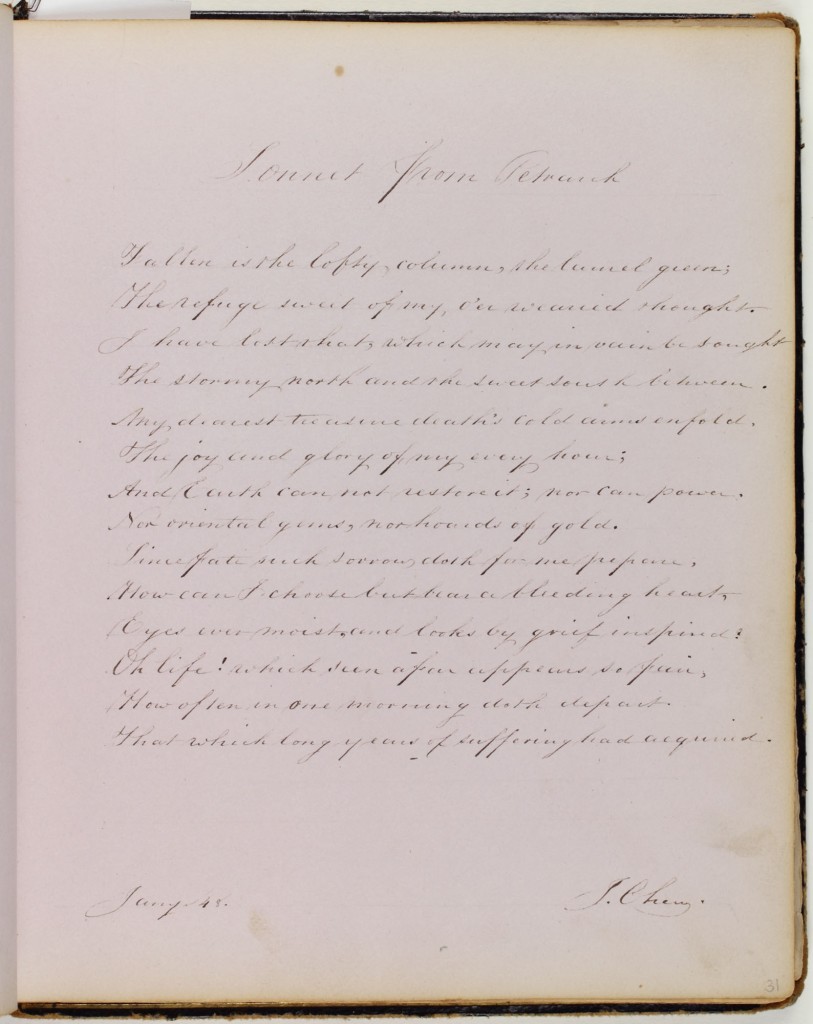 Sonnet From Petrarch
Fallen is the lofty column, the laurel green;
The refuge sweet of my o'er wearied thought.
I have lost that, which may in vain be sought
The stormy north and the sweet south between.
My dearest treasure death's cold arms enfold,
The joy and glory of my every hour;
And Earth can not restore it; nor can power,
Nor oriental gems, nor hoards of gold.
Since fate such sorrow doth for me prepare,
How can I choose but bear a bleeding heart,
Eyes ever moist, and looks by grief inspired?
Oh life! which seen afar appears so fair,
How often in one morning doth depart
That which long years of suffering had acquired.
J. Chew
Jany. /48
---
Contribution by John Chew transcribed from a translation of Petrarch's sonnet "On the Death of Laura." Only six months before Chew contributed this entry, a nearly-identical version of the poem translated by Alice Grey was published in the July 1847 edition of the Philadelphia periodical Graham's Magazine. Interestingly, "The Slaver. A Tale of Our Times" was also included in that issue. Examining Chew's contribution within this context, his pieces could represent a recontextualization of the nostalgic sonnet in terms of the abolitionist movement. The poem delineates a "north" and a "south," and conveys a sense of powerlessness and grief ("Earth can not restore [my joy and glory]; nor can power … fate such sorrow doth for me prepare") evoking the degradation of slavery in the United States. Although the sonnet's tone elicits a sense of pessimism, its author Petrarch suggests positive social change. The poet is often credited with bringing about the end of the "Dark Ages" (as he dubbed them) and initiating the Renaissance.
---
Page 31: Sonnet by Petrarch translated by Alice Grey in Graham's American Monthly Magazine of Literature, Art (1847) 31, 32.
See also Cassey, p. 8 and p. 70.